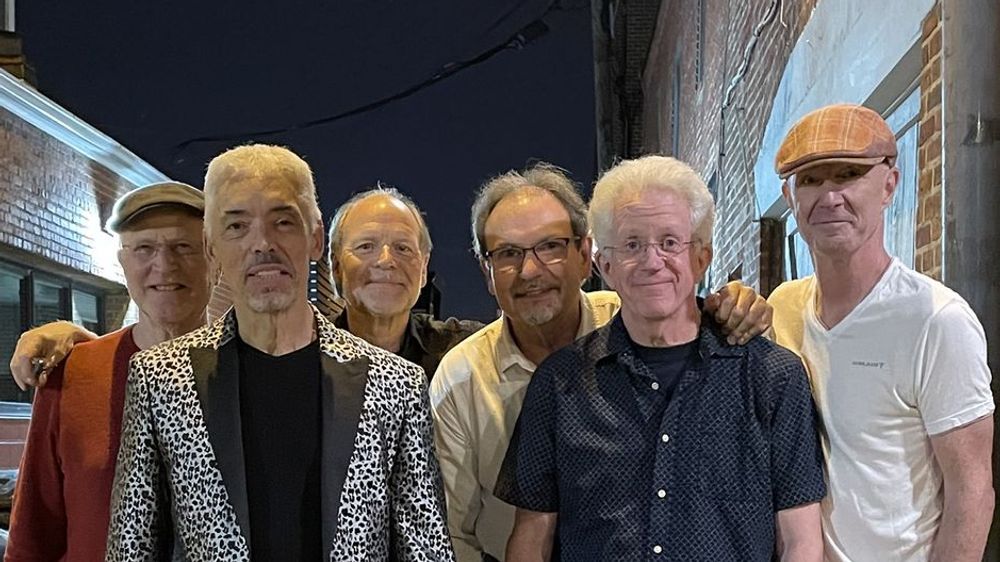 CAIRO FRED
It's the question bands hear all the time. 
"So, what kind of music do you play?"
Or: "What's your music like?"
Hmmm. 
Let's start with this. (Brace yourselves, fancy French word coming through!) Cairo Fred is a band with its own distinctive sonic oeuvre. 
When we try to categorize our music any more deeply than that, the words start to pile up. Here was one of our recent attempts, and it wasn't even Happy Hour yet: "Sort of a bastardized alternative pop noir funk infused hop rock." 
See what we mean?  
We have heard almost as many interpretations about our music as there are people. We've been described as suggesting "the ungodly spawn of Warren Zevon and Steely Dan." (We're not sure if we can ever unsee that image!) One fan recently described our song London Town as "A more user-friendly version of The Clash. Or Bowie cross-pollinated with Simple Minds." Desson's voice has reminded some people of David Bowie and others think he sounds like Jim Morrison of the Doors. (Ground control to Major Jim?) 
Breaking news: Everybody has their own opinions and we welcome them all! 
We just believe that we're very much ourselves, from the pedal steel sound that underscores almost every tune, to the one-of-a-kind stories you'll find in our lyrics. If you want to hear a song about arguing mid-20th-century philosophers that has a French/Gypsy cafe musical setting…we are the band for you! We hope you just dig our songs, not only for what they might be, from love songs to rock numbers, but also for that Cairo Fred...uh, what's the word here? Imprimatur! Too fancy? Would you take Cairo Fred twist? 
So, if our music reminds you of Billy Joel, Iggy Pop, or Weird Al Yankovic…
Actually, no one has mentioned those three yet.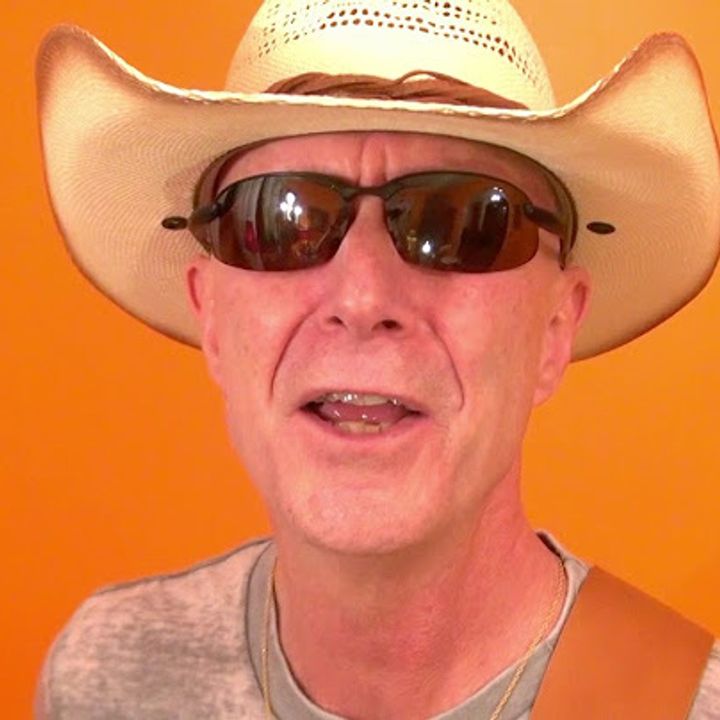 BRADFORD HECK
Guitar/Piano/Vocals
Bradford played in his first band as a young teen living in Germany. Returning to the US, he played in a number of bands and greatly expanded his knowledge of the various musical genres to which he hadn't been exposed while overseas. The 70's included a brief tenure with Beans, a year with the band Evernow, and many performances at Mr. Henry's, Tenley Circle. In the early 80's, Brad wrote the music for an off-off Broadway show titled Captive Audiences and subbed as the bass player for The Drifters on a short east coast tour. The 80's and 90's included stints with the band Bad Sneakers, but Brad's focus turned to writing his own material. Eventually, he began to collaborate with Desson Thomson, and together they forged the Cairo Fred concept! After experimenting with recording (with help from the wild guitar player Chris Patry) it was decided the time had come to form a band. Calling on best friends John Dawson and Andris Plavnieks, and meeting the fabulous Buddy Griffin and Brian Riordan, Cairo Fred was born! Cairo Fred has performed in many venues over the years. A personal highlight was Steuart Smith (Babe, Eagles, Joni Mitchell, Shawn Colvin) playing with Cairo Fred at the BandHouse Gigs Tribute to Joni Mitchell at the Strathmore. 
"Cairo Commander"
Photo by John Dawson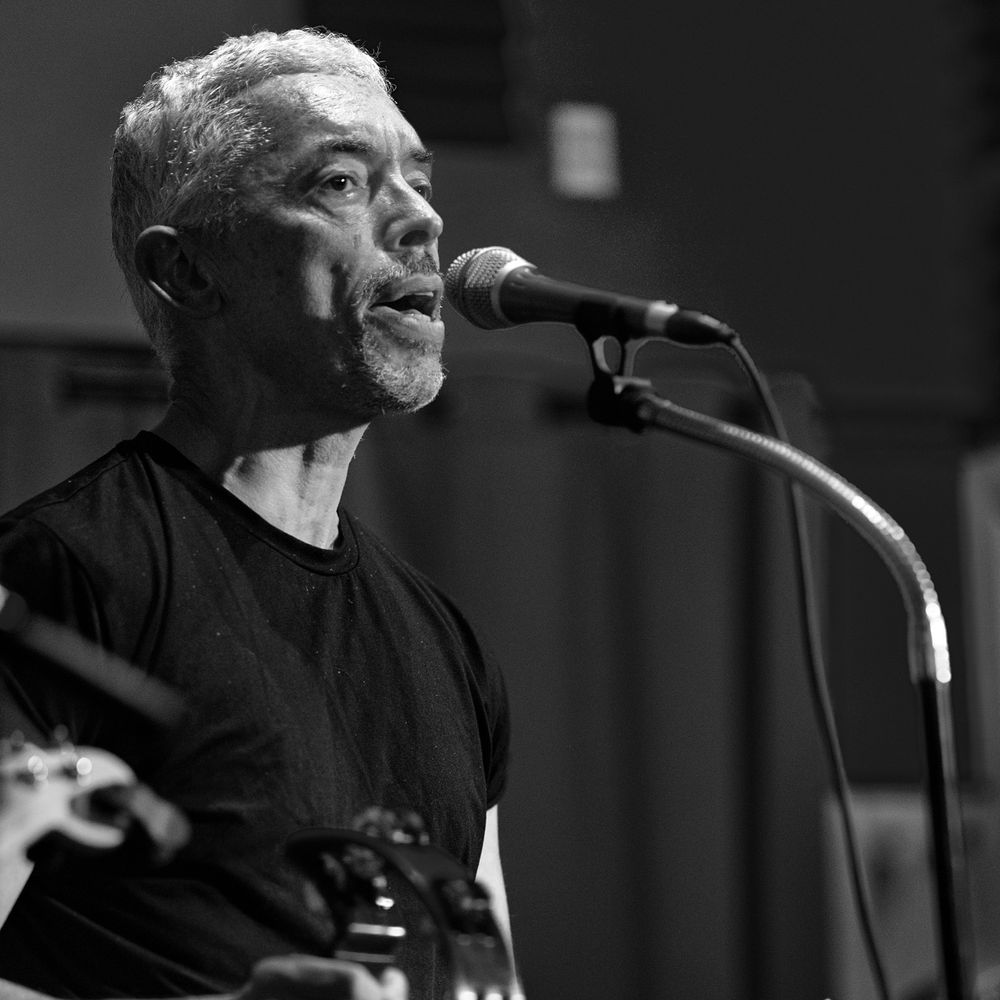 DESSON THOMSON
Lead Vocals
Growing up in England, Desson loved bands like the Kinks, the Rolling Stones, T. Rex, and David Bowie. He remembers his first audition as a singer. His mother said: "It's too bad, you don't sing very well." So, he turned on BBC Radio One and sang along to the song that was playing, right there in the kitchen. "I wish I could remember the song," says Desson. "But she sure changed her opinion." When he emigrated to the US, Desson formed a band with his friend Ken Cobb called Kaspar Hauser. They co-wrote rock-reggae original songs and played in clubs around town, opening a few times for Johnny Bombay. A few years later, Desson formed a band with Bradford Heck, which became Cairo Fred. As one half of the band's songwriting team, Desson composes the lyrics and melodies, while Bradford writes the music. Of course, the songs grow into fuller, complete compositions when the rest of the band adds their contributions. In other walks of his life, Desson was a movie critic for the Washington Post for more than 20 years, most of those under the name Desson Howe, and he was also a speechwriter for Secretary of State Hillary Rodham Clinton. But it's the music that has been his creative mainstay. He and Brad are already at work writing songs for the next album after Freedom Street. 
"McStudly"
Photo by Alan Kresse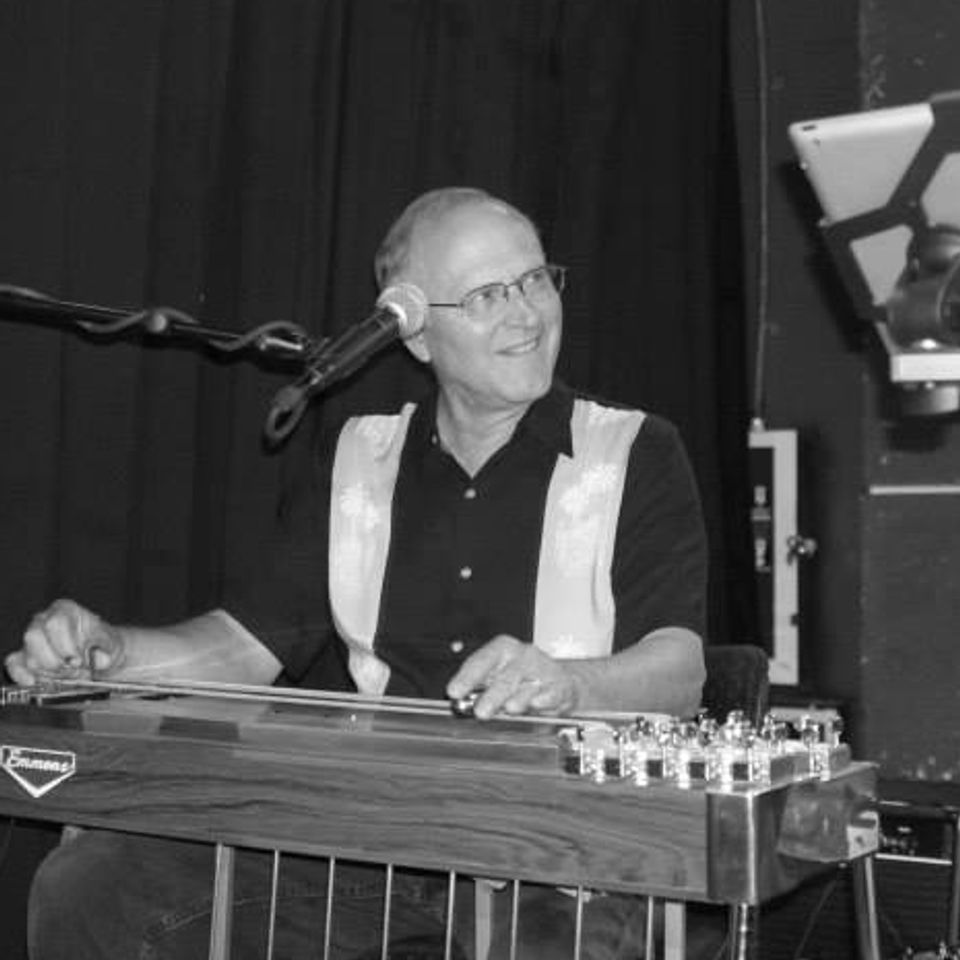 BUDDY GRIFFIN
Pedal Steel
As a premier pedal steel player, Buddy is always in demand. He is currently performing with: The McDuffees, with Lois and Tom McDuffee, Jim Clatterbuck, Ed O'Connell, and Joe Goulait; Powers That Be, with Chuck Sullivan, Jonathan Mudd, Ed O'Connell, and Cal Everett; and Dede and the DoRights, with Dede Wyland, Bill Williams, Scott McNight, and Tom Bowes. Other recent performances were with: Newmyer Flyer Laurel Canyon shows and the Halloween shows; the Bandhouse Gigs Tributes to George Harrison, Joni Mitchell (with Steuart Smith), the Byrds, Rod Stewart, Nick Lowe, Bob Dylan, Neil Finn, and Neil Young; and City Slicker, a country band that included Gantt Kushner, Tim Taylor, Randy Leith, Mark Moree, Garrick Alden, and Wendell Cavin. Buddy has also performed with local notables Dave Chappell, Barry Hart, Chick Hall, Tommy Lepson, Daryl Cline, Ruthie and the Wranglers, Human Country Jukebox, Flatbroke, Folkadelic and at least 20 other country bands over the past 40 years, either as a member or sub. He's been holding the pedal steel chair in Cairo Fred since its inception in 2000, where he employs his instrument in a non-country setting that presents him with many new and exciting challenges. It adds a special "sparkle" to the Cairo Fred catalogue. 
"Budjuardo"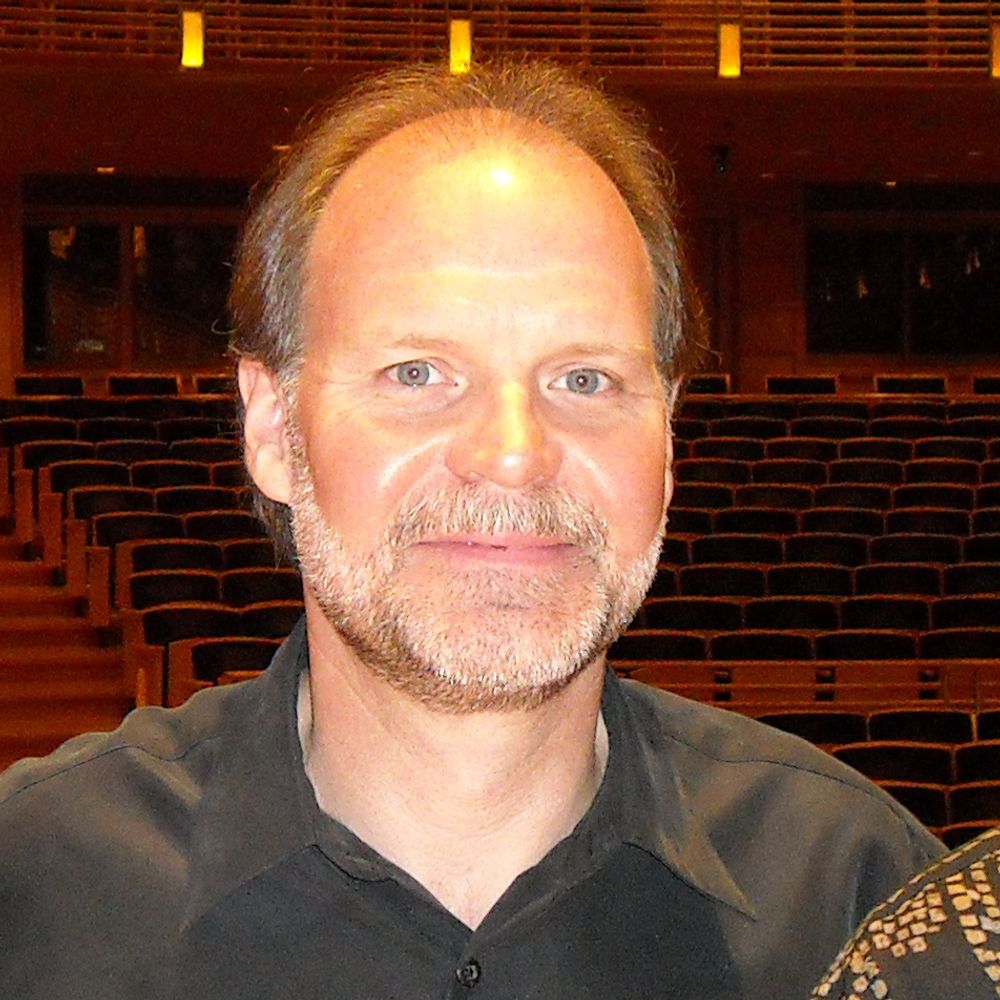 BRIAN RIORDAN
Drums
Brian's early experiences include performing in the Dennis Coleman Trio, a jazz band, and The Marc Cherry Band, where the focus was on contemporary jazz. After several TV appearances, they ended up performing at Blues Alley. Brian went on to work in the classic rock cover bands Bad Sneakers, Rare Design, and the George Bennett Band. He has performed on numerous shows produced by Band House Gigs, Newmyer Flyer, and Lucky 25 Productions. Brian is now a long-standing member of Cairo Fred.   
"Engine Room"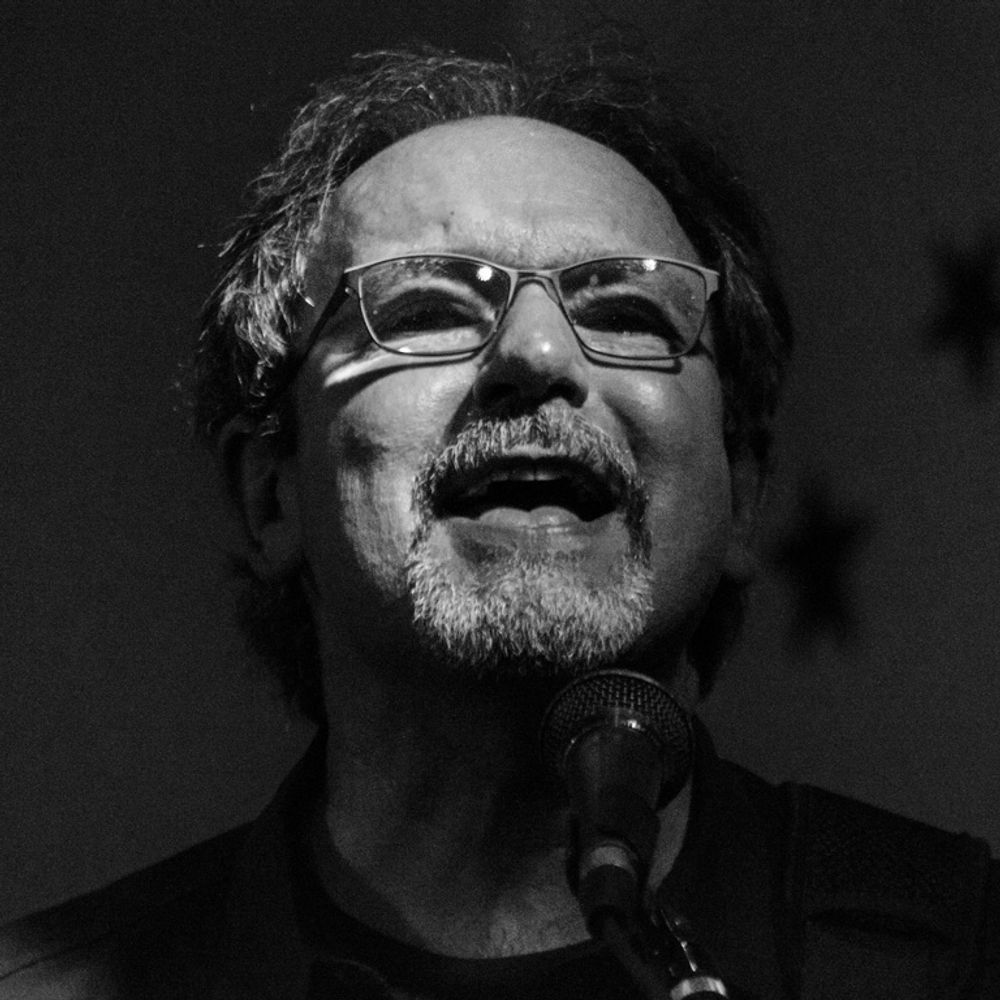 ANDRIS PLAVNIEKS
Guitar/Bass/Vocals
There doesn't appear to be anything that Andris can't accomplish. He has performed regularly with many notable local musicians, including Dick Heintze, Robbie Magruder, Wade Matthews, Bruce Harrison, Paul Langosch, Glen Pearson and Floating Opera, Ron MacDonald and Nightwatch, McArthur Park, and Mutual Fun. Andris was the winner of WPGC's "Unknown Star" contest with his awesome song Love To See Your Smile. His MS in Engineering, coupled with his hardware design experience in the aerospace industry, helped to make Cairo Fred's earlier recordings into sonic masterpieces. And did we mention that, on a stint in Nashville, Andris sang onstage with Danny Gatton?! Ask Andris about  driving Danny's souped-up '57 Corvette. 
"The Plavinator"
Photo by Skip Coblyn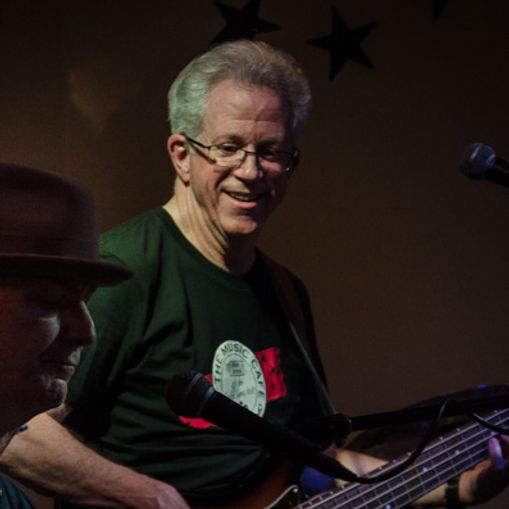 JOHN DAWSON
Bass/Piano/Vocals
John's resume, along with Brad's and Andris's, goes back to the great scene in the 70's around Mr. Henry's, Tenley Circle, in Washington DC. Andris was a founding member of one of the great original bands at that time, Beans, and John switched from playing guitar to bass in order to fill the vacancy left by the original bass player. Bruce Harrison was the keyboard player, and one of John's favorite projects with Bruce after Beans was a jazz vocal group with Toni Wilson and Lon Ephraim that performed in the very groovy room at the Bellevue Hotel in DC. John led a dance band called Playing Favorites in the 80's that included Chuck Underwood and Mike Aubin, and the three of them played with Mike Cotter in the Underwood/Cotter Band at Durty Nellie's in Bethesda and other fine venues. John also played bass for many years in Jim Templin's great 11-piece dance band, Fresh Air. And he'll always be remembered as the voice on the radio and TV jingle We've got 'em all at Tyson's Corner  where he sang the names of, like, 50 stores literally faster than was humanly possible.
"McB"
Photo by Skip Coblyn